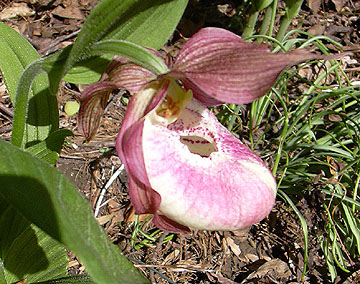 Cypripedium Aki 'Hot Summers' (pubescens x macranthos)
About half of my plants are hybrids. Many are quite lovely, inheriting the best of both parents. Cypripedium Aki inherits the vigor and heat tolerance of the pubescens parent and the color of macranthos. Note that macranthos appears to wipe out the yellow color in its hybrids in much the same way as Paphiopedilum delenatii.
In the sunny beds outdoors, I have pubescens, parviflorum, makesin, kentuckiense, japonicum, henryi, tibeticum, Rascal, Ulla Silkens, and Philippe. I would have expected tibeticum to resent our Baltimore summers, but it and the one tibeticum hybrid seem to take them in stride.
After over 40 years of observation, I am increasingly convinced of the wisdom of classifying pubescens as a separate species as the RHS has done. Its behavior is distinct and consistent both as a species and in its hybrids.