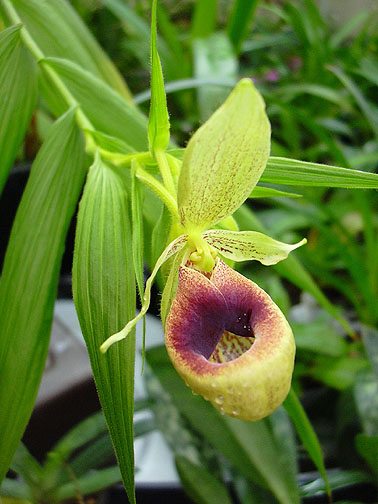 Selenipedium aequinoctiale Garay
Selenipedium aequinoctiale Garay Flora Ecuador no. 9: 13, fig. 4B. 1978

I was introduced to this particular species in a talk given by Stig Dalstrom at the Paph Forum in Washington, D.C. in February 2001. He presented a slide from his collection of this plant in blossum -- a single bright flower at the end of a stem which had hosted easily 15 or more flowers over the course of time. Mr. Dalstrom had me contact XXXX of EcuaGenera, a nursery in XXXX, Ecuador. From EcuaGenera, I obtained four seedlings in early 2002.
The good people at EcuaGenera reported that they grew this ladyslipper in a mixture of sand and tree fern and that it was a warm-growing species. Following their advice, I planted one in such a mixture using horticultural sand in an AirCone pot with enough Sphagnum in the bottom to prevent the sand from flowing out of the pot. Another plant was potted in a mix of sand, tree fern, and Sphagnum. A third was planted in a mix of sand and sterilized soil and perlite used successfully for the Cypripediums featured elsewhere on this site. The fourth plant was badly delayed in transit and arrived in rather poor condition. It was potted in the sand-tree fern mix.
All plants were watered with rain water only as has been successful for the Cypripediums. Within a month, the delayed plant had perished. Within a few months, the plant grown in the soil mix sickened and died. The two in the horticultural sand and tree fern mixed grew, with the one in sand and tree fern only growing vigorously. This is too small a sample to claim any absolute answers, but the mix of sand and tree fern, watered with rainwater was satisfactory for at least one plant.
My Selenipedium aequinoctiale is grown indoors under fluorescent lights in a basement with winter tempertures around 60°F and summer temperatures around 85°F.